by Aidan Dewar, co-founder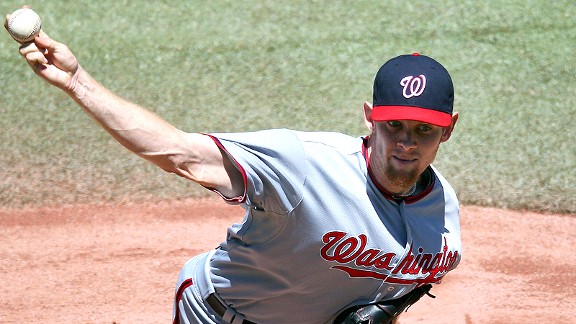 Stephen Strasburg has always had media attention.
After an insane college career, he became the most hyped pitching prospect in the history of the MLB, and has had the cameras on him ever since.
After being selected number one overall in the draft, he tore through the minor leagues and made his major league debut on June 8, 2010 against the Pirates. He didn't disappoint, striking out 14 batters over seven innings while allowing only two runs.
Then, after two more phenomenal starts, he was placed on the disabled list.
It turned out that he had torn an ulnar collateral ligament and required Tommy John surgery—typically a very hard injury to recover from for a pitcher, and one that some never recover from.
Because of this, the Nationals' organization took special care in Strasburg's recovery.
After a long, drawn-out recovery process, he finally came back this year and
has dazzled
with a sparkling 2.91 ERA, 1.13 WHIP, and 173 strikeouts.
The Nationals, a team that was bad enough to get two number one overall picks in a row (Strasburg and Bryce Harper), are now the owners of the best record in the MLB—74-45.
Harper, another young Washington star.
They are a lock for the playoffs and legitimate World Series contenders.
All is well.
However, they are planning to shut down Strasburg soon to prevent injury. The "innings cap" is set to 180 innings. After he reaches that point, he is done for the year (supposedly).
He is at 139 innings now, so he has around seven starts left assuming they keep him to around six innings a start like they have been.
That would mean shutting down Strasburg around the 150 game mark of the season—right before the time when they need him most.
The playoffs.
Here are four reasons why the Nationals should let the man pitch:
Understandably, no one wants to be responsible for ruining this man's bright future by injuring him, but he has shown no sign of re-injury. He says he is fine and has not shown any warning signs of injury. Let him pitch! It's lucky that the recovery process has gone so smoothly. They need to take advantage of it.
2.
They might not get back to this point
"You better let that boy pitch!" -Dan Marino
Sure, they are a young and talented team with a bona fide star in Strasburg and a potential star in Harper, but that doesn't mean they'll make it back here.
Dan Marino
made it to the Super Bowl in his second year and never made it back. People can get injured, traded, or stop playing well. They need to take the opportunity of this moment now.
4.
His agent is Scott Boras
Boras will surely get Strasburg paid.
Strasburg signed only a four-year deal when he was drafted, so he will be a free agent after next year. The man that will be handling the negotiations? His agent, the baseball "
anti-Christ
".
Boras is notorious for leeching insane amounts of money out of teams who want his clients
. This is a man who has negotiated three deals in excess of
200 million dollars.
Two of those deals were for A-Rod, and one was for Prince Fielder. Strasburg will surely get an insane contract in a year and a half, and it will be tough for the Nationals to compete with the Yankees, Dodgers, and Red Sox in what they can offer to Strasburg. The Nationals should take advantage of what will most likely be their next-to-last year with Strasburg.